Travel glass with infuser to prepare coffee and tea
Hurry, only 17 items left in stock!
Regular price

$ 343.74 MXN

Regular price

$ 491.05 MXN

Sale price

$ 343.74 MXN
Let's stop using disposable cups and help take care of the environment, taking our TRESSO coffee or tea cup everywhere. Let's ask that our takeaway drink in any cafeteria be served in our TRESSO glass and not in a single-use disposable glass and thus save the planet.
Material: high-quality borosilicate glass jar, resistant to thermal shock, recyclable and durable, with a
plastic sleeve for easy grip.
It has a
fabulous filter
that allows you to prepare your favorite coffee, and not only that, but also your favorite tea or tisane, with small holes that prevent the passage of residue from the filter to your already prepared drink, remove the filter and take it wherever you go .
Super stylish and super ecological
Available colors: Black-blue and Pink.
Share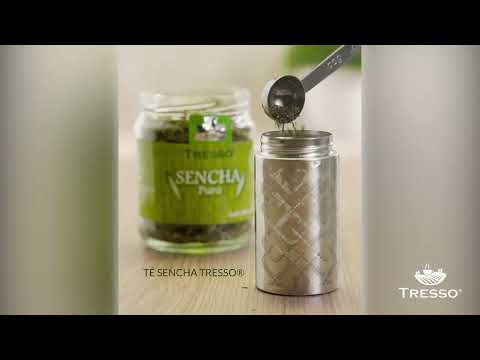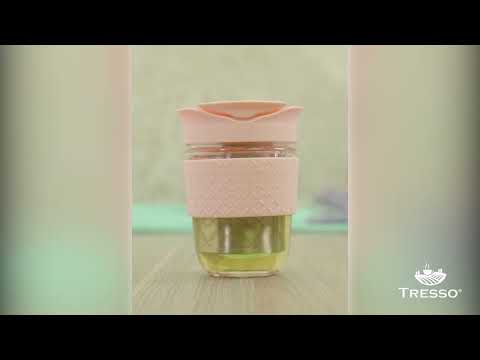 Vaso de viaje con infusor para preparar café y té
Práctico
Lindo diseño, muy práctico y me llego muy rápido.
Excelente
Muy buen vaso y el servicio muy bueno
Difusor
El vaso es hermosos, sin embargo, el difusor permite que salga el granulado de café.
La presentación del kit, es muy linda
Vaso de viaje
Muy contenta con esta adquisición igual a las imágenes
FAQ's
HOW CAN I BUY ANY OF YOUR PRODUCTS?

You can make your purchase directly on our online store page http://tienda.tresso.com.mx
Or if you prefer, a sales advisor can make you a formal quote through our WhatsApp 2731431551, he will indicate the steps to follow to finalize your purchase.
WHAT IS THE TIME FOR THE DELIVERY OF THE PRODUCTS?

Once your order is confirmed, the parcel delivery time is 3 to 5 business days (Standard parcel service) or 1 to 2 business days (Express parcel service), however this time is independent of the order assembly time .

In the event that your order requires customization, the average production time is 7 business days, independent of the days of parcel delivery.

If we are in high season for Hot sale, Good End or any other, the production time can be extended up to 10 business days.

Due to external reasons, the delivery days of parcels may vary.

We invite you to read all the terms and conditions of our website that are at the bottom of the home page.
DO YOU HAVE A PHYSICAL STORE AND WHERE ARE YOU LOCATED?

We do not have physical stores, our workshop is located in the municipality of Huatusco, Veracruz where we have our exhibition and sale of all products.

Our line of coffees can be found available in the most important supermarkets in the country (Walmart, Soriana, La Comer).

The complete line of our products is also available for the entire Mexican Republic at http://tienda.tresso.com.mx .
WHAT IS THE SHIPPING COST?

Shipments from a minimum purchase of $1,499.00 are free, otherwise the shipping cost will depend on the volume of your purchase and the parcel service you choose, either Standard Shipping or Express Shipping (regularly they are amounts ranging from $139.00 to $250.00) .

In the event that at the time of generating the guide for the shipment of your order, the system indicates that an extra charge is generated for being an Extended Zone, the amount must be covered 100% by the client to be able to make the shipment, and its cost It goes around $140.00 or $160.00, when this happens a person from the corresponding department will contact you via WhatsApp to advise you on the process.


Shipments are made through the FedEx package, so when buying with us you accept the terms and conditions of said package. We invite you to read all the terms and conditions in our Home.
WHAT ARE THE PAYMENT METHODS YOU HANDLE?

For your convenience we offer a wide variety of payment methods. Our main provider is PAYPAL, whether you have an account or not, you can pay safely. Your purchase will always be protected.

Also if you prefer you can pay with Mercado Pago, credit or debit card payments, transfers and bank deposits.

BANK DEPOSITS

Scotiabank

• Name: TRESSO

• Account: 06105484642

TRANSFERS

Scotiabank

• Name: TRESSO

• Interbank code: 044865061054846421

DEPOSITS IN OXXO

SPIN by OXXO Card (VISA)

• Account: 4217 4700 7964 9352

Kueski Pay

This is a payment method external to us and 100% secure. Buy now and pay up to 4 fortnights. No credit card.

Now you can have what you want, when you want. Buy now and pay in 4 fortnights.


How to use it?

1.- Choose your favorite products, add them to your cart.
2.- Choose Kueski Pay as the payment method at checkout.
3.- Fill out the form with your data. Your credit will be approved in minutes.
4.-Receive your products and pay for them later in fortnights

If you still have questions, we invite you to read the terms and conditions at https://www.kueskipay.com/
HOW ARE THE MONTHS OBTAINED WITHOUT INTEREST?

We have up to 3 months without interest on minimum purchases of $2,000.00 when paying with PayPal, credit or debit card. If your purchase exceeds the minimum amount, it will give you the option to pay in 1, 2 and 3 months without interest.
Be sure to select the option months without interest before completing your payment for this promotion to apply (it is not automatic).

DO YOU MAKE INVOICES?

We do issue an invoice, if you require an invoice please enter your complete information in the following link https://tienda.tresso.com.mx/pages/facturacion within 5 calendar days after your purchase, otherwise we will assume that it is not required.